Thursday, September 15, 2011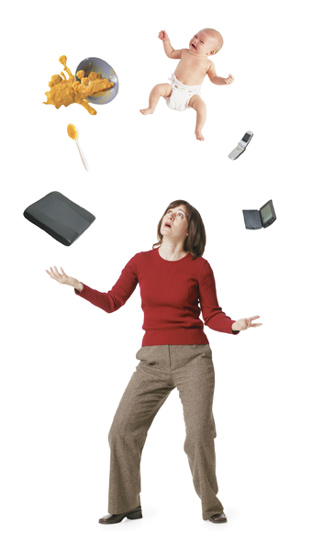 For some reason today I thought I'd put together a little piece on a typical morning at my place when I'm going to work.

I'm lucky firstly because I only work part-time, usually 2 or 3 days a week. Added to this is

the fact that my husband is also my employer so on the mornings that the shit hits the fan with girls he is usually also pretty understanding of me being late. Another bonus is that he is supporting my exercising and will go to work later himself on the mornings that I'm out pounding the pavement.
5:30am – the alarm goes off and I roll over and hit the snooze button.
5:37am – the alarm goes off again. I hit the button again but this time I'm hearing noise from the girls room.

Victoria is about to get out of bed.
5:40am – Victoria is standing beside me waving and saying mummy. Time to get up and get ready to run.

Victoria is now in the bed or causing chaos in our room. I turn on the TV and she settles enough to let DH to keep resting while I get dressed.
5:50am – I'm looking for some part of my running gear. Be it the iPod, my HRM strap, the watch or the GPS attachments. It never seems to matter if I get ready the night before as something always disappears – most likely due to Victoria picking it up as she comes to greet us good morning.
6:00am – Out the door. This is my time.
7ish am – Return home as DH jumps in the car to leave – its hand over time.

On a good morning he's started the kids breakfast, on a bad one Victoria's trashed the joint and may have even been put in the shower to clean up the mess.
7:30am – Breakfast are complete and it's time for a shower. I can no longer enjoy a shower alone in the mornings as Victoria always joins me and Elizabeth comes in about half of the time. If they're both in there fights over the bottles or toys will no doubt start.
8:00am – I'm dressed but chasing two naked kids around the house. Elizabeth protests that she can't find the right outfit to wear and Victoria just flat out refuses to help while I'm trying to get her dressed.
8:10am (but usually turns into 8:30 in the mayhem) out the door. Elizabeth will be complaining that her seatbelt is too tight and Victoria will be removing her shoes.
8:30ish – Daycare drop off.

Elizabeth happily goes to her room and finds her friends.

I find one of Victoria's careers so she gets a cuddle so I can leave without tears.
8:50ish – At my desk. The mayhem has ended for another morning.
So it may seem a little crazy and I haven't even started on the late afternoon/early evening shift.

A day at work is so much more relaxing than my days at home with the girls. That being said I cherish those days too.