Wednesday, June 8, 2011
I'm loving my group circuit class at the moment. Its not that I don't like my other group classes (Pump and Pilates) but I find this class to somehow be a step above the others. Between the class and 15 minutes on the dreadmill in which I managed to complete the beginners rolling interval for one round I managed to kill 516 calories.

The combination of weights with a couple of cardio elements really keeps my focus during the class and also keeps the heart rate up a fair amount higher than a standard pump class while still using all the major muscle groups. Add 100 sit ups and legs lifts to the batch and you've got a pretty good workout.

After today's effort I can see that once I start training I become rather focused on what I'm doing. I've had some issues with my HR strap for some time now. When I started running in February I was using a Garmin hard plastic strap that started digging in to me around the closure points. It had given my that much grief that I went out and purchased their "premium" soft strap and a not so cheap price of $89 but I was over the stinging pain after each run when I'd jump in the shower.

Fast forward a few more weeks and the premium strap is still rubbing on the sore spots so I start taping up. Add another few weeks to the mix and I finish the Mother's Day Classic and buy myself a new running watch as my reward. Its taken almost a month and I finally think I've worked out the perfect placement of the monitor so it doesn't rub the old scabs and new skin. Well that changed today.

The first thing that alerted me to any trouble was when I spotted some blood on my shirt after my training session today. Upon lifting my shirt I find that my HR strap had slipped and left some damage behind.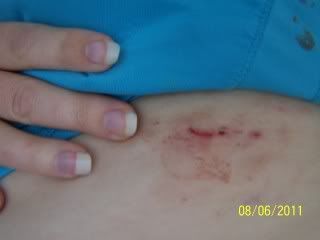 I hadn't felt a thing during training at all but I'm really dreading jumping in the shower as its going to sting like hell.
Today was weigh in day and I'm happy to report that the downward trend is continuing. Since I started running in February I've lost 6.6kg and 5.2kg of that has fallen off me since I signed up for the 12wbt. I'm starting to get comments which spur me on even further. I need to stay focused on the day to day as my mind keeps wandering off thinking about what things will be like in another 9 weeks time. I can't get ahead of myself or I might fall off the wagon. So I'm going to sit back and enjoy the ride one day at a time.